Pagan paths connect with and honor nature following the rhythm of the seasons. Just as nature and life has natural cycles, so should your spiritual and magickal practice.
For thousands of years, Winter in many parts of the world was a season of bitter cold and the months leading up to the first snows was a time of fevered preparation. Extra food was prepared with meat salted or dried, vegetables and fruits canned and stored in the root cellar, fire wood chopped and stacked to keep the hearth fires burning for heat and cooking. Once the snows hit, families would hibernate staying warm inside to ride out the long winter hoping they had enough food and water to get them thru. Long nights lit by the fire of the hearth and candles naturally let families get closer and enjoy each others company.

While most of us do not have to go to all this trouble anymore and can get out and about to the grocery store easily, if you listen to the rhythm of nature, it is still a natural time to stay indoors, meditate and reflect. The hustle and bustle of the summer slows down with less outside activities to eat up your time. Take stock, not of food stores but of yourself. A new year is coming - what do you want it to hold for you?
If you haven't started a journal, this is a great time to do so and develop a regular habit of writing your thoughts, dreams, and ideas. Meditate on what has occurred this year to you and the world and what those events mean to you. If there is something which struck you hard, this would be a good time to do a spell for letting go of it or the emotions it brought up in you. Catch up on those wonderful new books you got that you haven't had a chance to read or re-read a favorite - is there anything better on a cold winter day than curling up with a good book and a steaming cup of cocoa?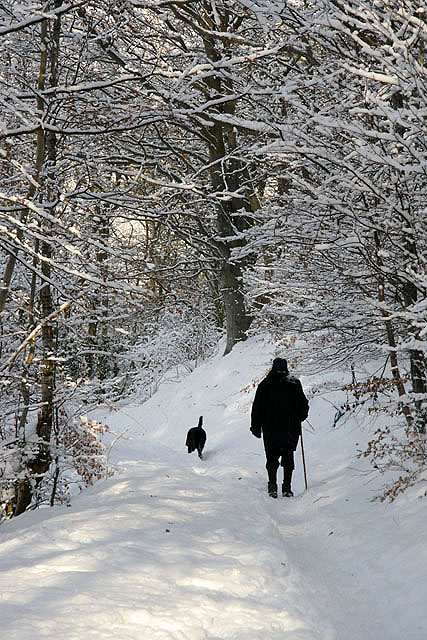 Winter is also a great time to catch up on things like scrapbooks, sorting family photos, and assembling family stories or remembrances. While Thanksgiving is not a Pagan holiday, it is a wonderful time to connect with family both Pagan and not and share those tall tales and accomplishments of the past year and your ancestors. Give thanks for everything that has made you who you are - the ancestors, the lessons you have learned, the time you have enjoyed with family and friends.
In Wicca and Witchcraft, we have just started a new year after Samhain so take some time and think about what you want this new year to be. What mundane things do you want to accomplish or get - a new car, house, or learn something new? What magickal things do you want to learn? Would you like to learn more about tarot, blending oils, or other magickal workings? The slower pace of Winter is the perfect time to think about it and to start to gather what you will need to do it.

Going back to our ancestors, being stuck indoors during Winter was also the time to make new things for the home and clothing making it a great time to get creative and craft something special. One of my favorite things to do during the colder weather (yes, even Florida where I am gets cold), is making candles. The warmth of the wax, the wonderful scent of the essential oils - it is truly a magickal experience for me. I love to blend special candles for the upcoming Sabbats, including a wonderful pine scented candle for Yule.
Another idea for Winter is cooking and baking. It is fun to experiment with recipes and thanks to Thanksgiving and Christmas holidays, baking supplies are on sale! Try that bread recipe you have been meaning to or learn how to make pie crust from scratch. Baking cookies and cakes and giving them to friends or taking them to a holiday party is a great way to have fun even at celebrations for the holidays you do not follow. We all have non-Pagan friends who do not need to know you don't celebrate the same way they do. You don't have to follow their holidays to enjoy spending time with them and having fun during the season.

Bundle up and take a long, Winters walk. Study, recharge and reflect. Whatever you love to do, the slower pace of Winter gives you the time to do it.
What are your favorite Winter Magicks? Comment and share below.