Covid-19 Info: We appreciate your support of us and other small businesses and are committed to keeping our staff and customers healthy and safe during this difficult time. Please expect delays in shipping and restocking. See updates on issues caused by the Covid-19 Pandemic here and our company Facebook Page.
Article Search
Articles meeting the search criteria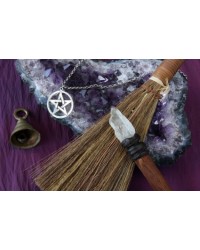 Every day of the week, Sunday through Saturday, is a magical day. Each of the seven days of the week has its own magical correspondences such as deity associations, colors, crystals, and herbs. Each individual day also carries its own bewitching specialties. The trick is finding a way to apply these correspondences in a practical and fresh way to your Witchcraft.You may feel like you don't have much room in your schedule to add to your magical practice. Between your job, hauling the kids to soccer practice, walking the dog, and doing the laundry you've got maybe twenty minutes to spare for mag..
Showing 1 to 1 of 1 (1 Pages)