Size & Other Options are Not Working on Some Products
Our techs are working on fixing the issue, but until fixed, please let us know which option you want in comments when checking out if the item does not show the option choice.
Article Search
Articles meeting the search criteria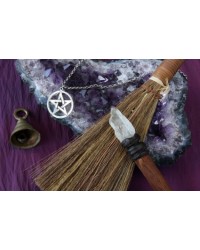 Every day of the week, Sunday through Saturday, is a magical day. Each of the seven days of the week has its own magical correspondences such as deity associations, colors, crystals, and herbs. Each individual day also carries its own bewitching specialties. The trick is finding a way to apply these correspondences in a practical and fresh way to your Witchcraft.You may feel like you don't have much room in your schedule to add to your magical practice. Between your job, hauling the kids to soccer practice, walking the dog, and doing the laundry you've got maybe twenty minutes to spare for mag..
Create An Altar
An altar is really just a working space set with objects that reflect you, the purpose of the altar, or the ritual or season you are celebrating at it. Here are some things to think about when setting up your first altar.

Showing 1 to 2 of 2 (1 Pages)