Amethyst Pressed Glass Style Electric Aroma Lamp With the look of vintage pressed glass, this purple glass electric tart melter or aroma lamp will look beautiful wherever you set it.
Amethyst Pressed Glass Style Electric Aroma Lamp by
River Imports
Vintage style pressed glass aroma lamp has a clear glass base and attached purple glass basket shaped bowl with raised detail.
The removable glass bowl holds water and oil or your favorite wax tarts (soy wax tarts recommended).
A 40 watt halogen bulb provides both the heat and light for this style and the cord has a dimmer switch letting you select both the brightness and the heat level easily.
It is 4.5 inches tall and 3.5 inches wide, not including the glass bowl which is about 2 inches deep. Comes gift boxed. Shape or design may vary slightly.
Item Number:
RV-AR-77PUR |
Approximate Size (Inches):
4.00 wide x 4.00 deep x 5.50 high |
Approximate Shipping Weight:
1.00 lbs.
Goes Great With...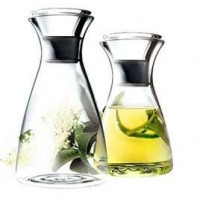 (Liquidamber / Styrax) Amber is a feminine plant under the guardianship ..
$8.95
---
This beautiful blend contains Rowan Berry in essential and fragrance oils. ..
$8.50
---
Replacement bulb is 40 watt halogen and is made for our electric aroma lamp..
$2.00
---