Spell & Ritual Kits at Mystic Convergence Metaphysical Supplies
---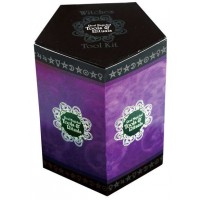 Everything you need for a spell or ritual in a great kit!
While these kits contain the materials and a spell, they will only be effective for those who put the work and energy into them. Do not forget to put all mundane effort into achieving your result as well - doing the lottery spell for example will not work if you do not buy an actual lottery ticket!
You should also have a working knowledge of spells and some system of witchcraft to properly use these kits. If you've never worked magic before, they will probably not work.
Final note - we sell these kits with no guarantee of results and no claim that you will get the outcome desired. While we believe magic and spells work, we cannot guarantee your results.
---
---
Showing 1 to 1 of 1 (1 Pages)