Crystals & Stones at Mystic Convergence Metaphysical Supplies
In This Category:
---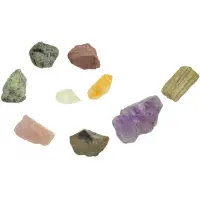 Unlock the ancient wisdom of Magic with the energy of crystals and gems. Magical crystals and stones for natural healing, energy work, Feng Shui and magic.
Quantum physics has confirmed what natural healers have known since the beginning of time - everything is energy and everything vibrates. Even something that seems as solid as a rock has a natural frequency of vibration.
Many forms of magic including Wicca, Witchcraft and Reiki teaches that we can enhance our energy or the energy of a spell or ritual by using the appropriate stone or crystal with its vibration adding to its specific energy of the working.
Using various stones and crystals in your daily life can help ground and focus you during the day. Crystal wands, extractors, and Vogels heal and energize your chakras and energy meridians in the body to clear dis-ease, negative energy, and energy blockages.

We carry stones in various shapes from single specimens to full pound packages. Whether raw, tumbled, cut and polished or smoothed by nature, our selection of gemstones will enhance your magical workings. Be warned though, collecting crystals can be addictive!

---
---