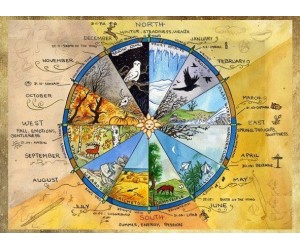 Holidays & Rituals
---
These articles explores the magic of rituals and holidays including lunar cycles, Pagan Sabbats, and more. We offer suggestions on how to celebrate, activities and spells you can do during these cycles to deepen your magickal and spiritual life.
---
Celebrating the Autumn Harvests
One of the greatest summer pleasures of my youth was taking a drive with my parents and brother through the August countryside, stopping for fresh produce the farm families sold at the roadside for what seemed like spare change. Produce on the vine in the morning came fresh to the table in the evening. Nothing else tastes quite so sweet as that first taste of the first harvest from the fields of your homeland.When I first began doing research for the book that would become The Sabbats: A Witch's Approach to Living the Old Ways, I was astounded to discover that both the autumnal equinox as well...
The Magic of The Spring Equinox
An Equinox - from the Latin for Balanced Night - is a day of perfect balance with 12 hours of light and 12 hours of night. Our ancestors recognized it as a day of magic. The Spring Equinox was especially celebrated as warmth returning to the Earth after the long, often frozen Winter. A day to celebrate being able to emerge from the hibernation of the long cold nights to a time of light, growth, and fertility. Of crops, new plans and new dreams just waiting to be planted. Of building and repairs, hopes and dreams.It can be difficult at times to connect to the holidays our ancestors celebrated. ...
Showing from 1 to 2 of 2 (1pages)