Tarot Boxes, Bags & Cloths at Mystic Convergence Metaphysical Supplies
---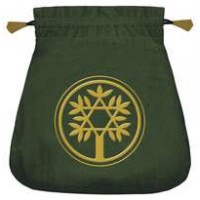 When you are not using your tarot cards, you should keep them protected from negative energies and potential physical damage in a storage bag or box.
Tradition says you should wrap them in pure silk, though modern tarot card readers also like velvet or cotton pouches or storage bags. Often with a printed or embroidered design, these bags are a great way to store and transport your favorite tarot cards.
A box large enough to hold your tarot card deck provides extra protection. Our wooden boxes are great for giving them long term protection for your tarot card collection.
Drop cloths protect your cards during your tarot reading and embroidered designs offer extra enegies to your readings.
---
---