Tapestries, Curtains, Bags & Other Cloth Items at Mystic Convergence Metaphysical Supplies
In This Category:
---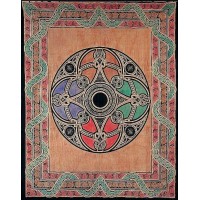 Cloth items include beautiful bedspreads that can be used on your bed, as a tablecloth, or even as a wall hanging to jazz up a boring old wall you cannot paint like in dorm rooms and rentals. Curtains and other smaller cloth pieces made especially as a wall hanging are also included here including meditation banners, pennants, and gorgeous flags.
Bags and pouches are other cloth items found in this section - great for use as a small purse or for storage of many items from tarot cards to crystals and jewelry. Backpacks and messenger bags are great for overnight travel or every day book or laptop bags.

---
---
Showing 1 to 3 of 3 (1 Pages)